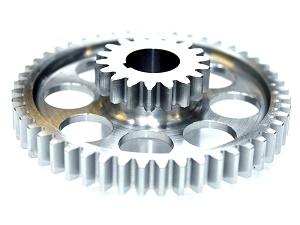 MIJNO manufactures spur gears with bevel and internal teeth, in accordance with ISO 4 class (AGMA 14).
Our ability to manufacture precise complex parts in low volume production is based on many years of Aerospace experience. This combined with our highly trained staff and quality initiatives allows us to continuously deliver superior and reliable products.
Our specialty is to produce ground gears and gear assemblies to precise geometric tolerancing to customer and Aerospace specifications.
Our vast array of manufacturing machinery, inspection equipment, quality processes, along with our ERP system allows MIJNO to
(see the dedicated page)
- To perform high tolerance machining with in-process quality inspections
- Using our integrated ERP system, all quality issus are captured and monitored allowing for tracking and resolution of corrective actions therefore eliminating future quality issues.
- Maintain a database of quality approved subcontractors who are able to perform special outside processes including treatments, coatings, and special Aerospace processes.
- Manufacture to the EN9100 standard and peform FAI procedures.
- Meet customer lead times.
.