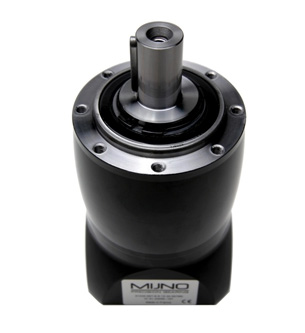 CHARACTERISTIcS of the MRP range

The MRP is a low backlash planetary gearbox designed for continuous or low-acceleration servo applications. 2 radial bearings on the output shaft provide high acceptance of radial loads (like a spur pinion or a belt).

This range offers:
5 sizes from 5 Nm to 290Nm (continuous)
Low backlash (15, 12 or 10 min depending on size and selected option)
Convenient output interface, which enables centering on the bearing, for a perfect shaft concentricity.
Shaft with or without keyway (with a DIN332D threaded hole standard)
IP 54 protection
Click on "3D view" at the bottom of the page (requires Acrobat reader) to see the internal construction.
​
LIKE ANY MIJNO GEARBOX, the mrp provides
A high level of quality, due to the in house manufacturing of all internal mechanical components
The highest quality of gears, with carburized, quenched and ground satellite gears, supplying power, precision, reliability and an everlasting, low backlash.
Standard components which include bearings, lubricants, seals and joints from the most trusted international suppliers for quality without compromise
A high efficiency (up to 96%)
Numerous reduction ratios (multiple of 3, 4, 5, 7, 10) (other ratios available optional)
A quick, easy and reliable assembly to the motor (without adapting flange)
Dual screws coupling providing perfect balancing, perfect centering, and strong grip with the motor shaft,
A wide range of temperature (-20°C à +90°C)(-4°F to 195°F) (more ranges of temperature optional)
Numerous available options including lubrication, interfaces, and peinture and more.
An optional stainless steel version.