MIJNO was established in
1919
in Saint-Etienne, France by Mr Joseph Mijno, to manufacture gears for bicyles.
Mrs MIJNO and her 4 sons (from left to right : Jean, Adrien, Henri and Louis). Today Henri's son François runs the company with his son Gregory.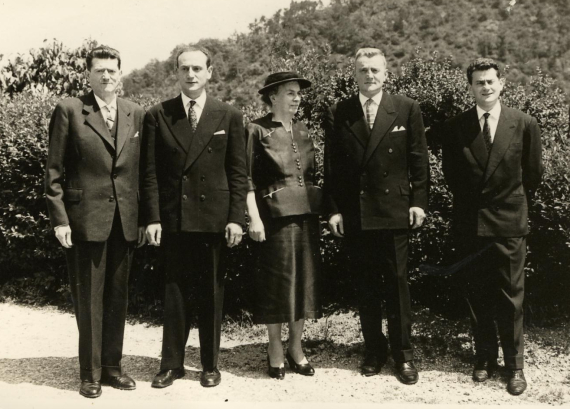 In the 1950's his 4 sons Jean, Adrien, Henri and Louis took over management of the company and developed the company by acquiring several companies in order to diversify product lines.
Here are our major milestones:
1968 : First planetary gearbox
1970 : First bevel gear
1972 : First rack
1978 : First low-backlash planetary gearbox
1979 : First ground gear
1982 : François MIJNO takes over management of the company, third generation
1997 : Opening of the North American office in Chicago (USA)
2002 : First ground rack
2006 : First custom gearbox according to customer specification
2008 : First mecatronic system (made with a custom gearbox)
2014 : First special gearbox for an Aeronautic application
2016 : Opening of MIJNO GEARS USA in California (New Sales & Marketing office for the North American market)
​
Today, MIJNO is a four generation company, run by Gregory MIJNO
MIJNO has long term employee retention resulting in strong relatonships with our customers and sub-contractors.
This stability is a key element of our companies success and our ability to continuously improve our manufacturing and quality processes.
MIJNO
is certified
ISO 9001
, employs 85 people and uses 150 modern machine tools in 2 production sites.
All manufacturing is perfomed at home, in France. Over 55% of these products are exported through our office in California MIJNO GEARS USA and through a efficient distribution networks.
MIJNO
has managed to acquire over the years a unique know how in design and production of complex transmission components. Continual investment in high tech equipment and ongoing training of our staff enables MIJNO to control our processes and production while meeting demanding quality standards .
We are constantly preparing for tomorrow's challenges.